Venez pratiquer avec Nico Luce: yogi international avec une longue expérience / Come and practice with Nico Luce : an experienced international yoga
Chaque mois de novembre à avril 2024, dans le cadre la formation de 200h de profs de yoga, vous avez la chance de participer à ses pratiques matinales de Vinyasa et de l'après-midi de Yin yoga.
Cours en anglais !
VINYASA :  2h30 de pratique complète qui inclue méditation, pranayama & asana dynamiques
Dates/heures : samedi 4 et dimanche 5 novembre de 7h30 à 10h
Prix : 50.- (hors abonnement)
YIN: 1h de pratique 
Dates/heures : jeudi 2, vendredi 3 et samedi 4 novembre de 16h-17h
Prix : abonnés inclut dans abos, cours d'essai 20.-, cours unique 30.-
Every month from Nov 2023 until April 2024, during the 200h YTT you have the chance to sign up to his morning Vinyasa and afternoon Yin practices.
2h30 VINYASA practice including meditation, pranayama & dynamic asana
Dates/time : Sat. 4th and 5th of November from 7:30 to 10:00
Fee : 50.- (hors abonnement)
YIN: 1h YIN YOGA practice
Dates/time : Thursday 2, Friday 3, Sat. 4 of November from 16:00 to 17:00
Fee : included in subscription, trial class 20.-, single class 30.-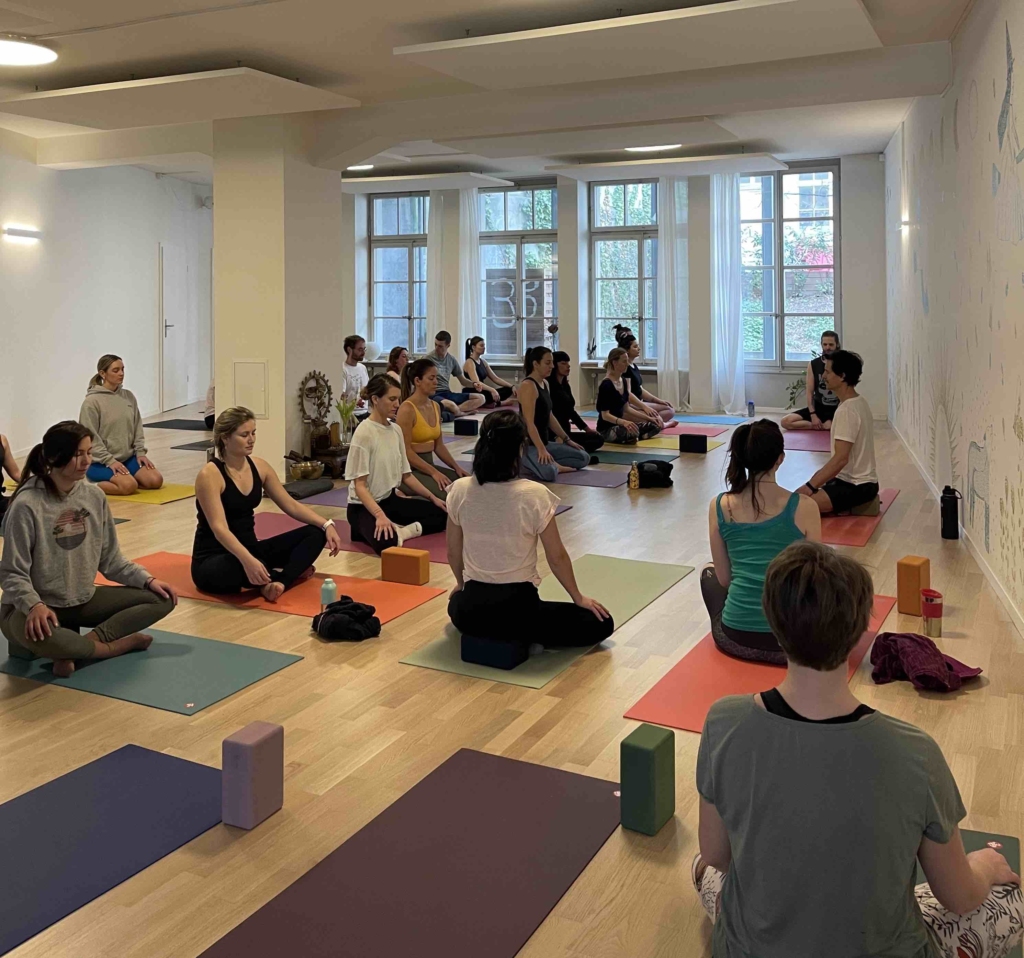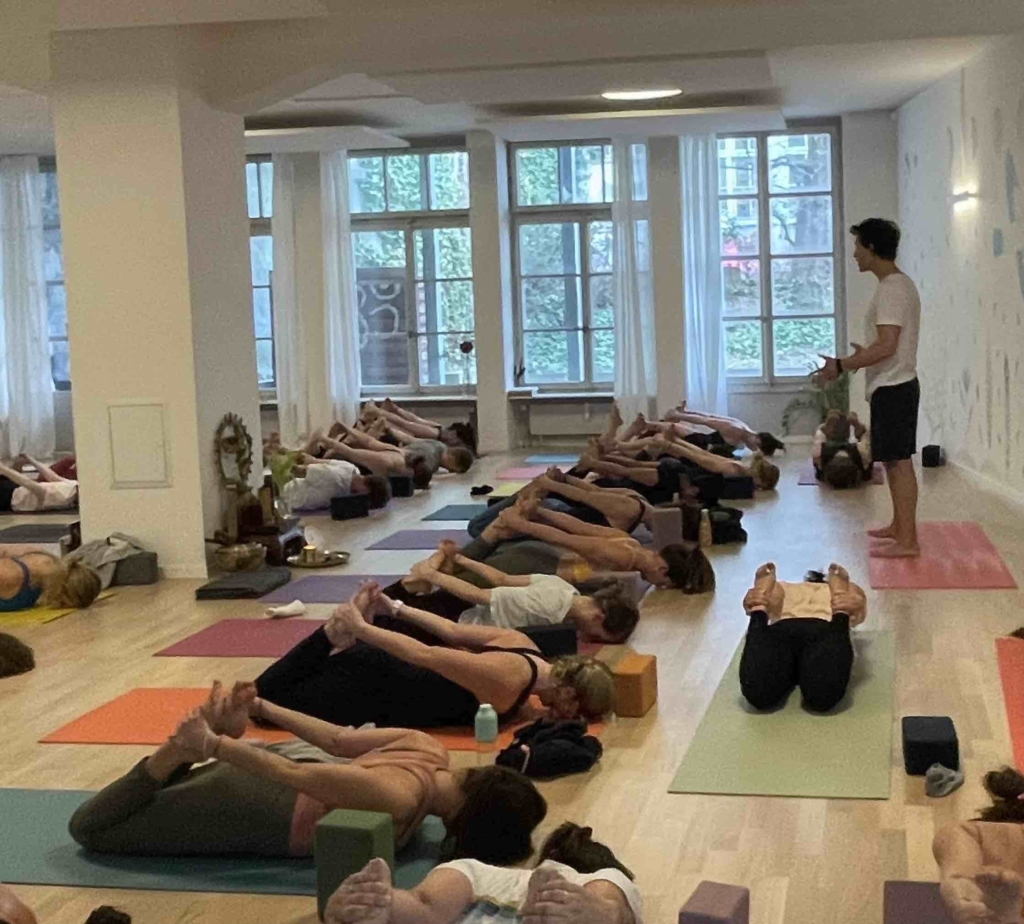 Nico est un yogi certifié 500 heures et un formateur international qui enseigne le yoga depuis 2003, et qui s'est lui-même engagé à ne jamais cesser d'apprendre. Son amour pour la philosophie orientale, la spiritualité et l'anatomie est habilement intégré à son enseignement. Son style est éclectique et s'inspire de ses études avec certains des meilleurs professeurs de Hatha, Anusara, Vinyasa, Yin, Power Yoga et Pilates. Pourtant ancré dans la réalité, le yoga, selon lui, n'est pas séparé de la vie mais plutôt constitutif de celle-ci, et il s'inspire des expériences quotidiennes pour réaliser le potentiel de la pratique.
Raconteur d'histoires, philosophe, voyageur et déménageur passionné, Nico a passé une grande partie de sa vie à la recherche de l'extra ordinaire ; des voyages intrépides à travers l'Inde, en passant par des rôles d'acteur et la propriété d'un studio de yoga, il a passé une grande partie de sa vie à chercher un moyen d'embrasser cette vie avec chaque respiration, une respiration à la fois. Vivre sa vie au maximum de son potentiel, c'est vivre avec vivacité, aventure et enthousiasme.
En donnant vie aux anciens enseignements du yoga, l'objectif de Nico est de vous emmener dans un puissant voyage de transformation qui vous fera chercher les réponses à vos questions et remettre en question la façon dont vous voyez votre vie, vous invitant à regarder à l'intérieur de vous, à ne jamais cesser de poser des questions et à être courageux, à rester ouvert et à prendre une chance avec vous-même.
Nico is a 500 hour certified yogi and international trainer who has been teaching yoga since 2003, and is himself committed to never ending the journey of learning
His love for Eastern philosophy, spirituality and anatomy are all weaved skilfully into his teaching; his style is eclectic, drawing on his study with some of the top teachers in Hatha, Anusara, Vinyasa, Yin and Power Yoga and Pilates. Yet grounded in reality, yoga, in his view is not separate from life but rather constitutive of it, and draws from everyday experiences to realize the practice's potential.
An avid story teller, philosopher, traveller and mover, Nico has spent much of his life in pursuit of the extra ordinary; from intrepid travels through India, acting stints and a successful yoga studio ownership, he has spent much of his life seeking a way to embrace this life with each breath, one breath at a time. Living life to its fullest potential is to live with vibrancy, adventure and zest.
By bringing to life the ancient teachings of yoga, Nico's goal is to take you on a powerful transformational journey which will have you seeking the answers to your questions and challenging the way you view your life, inviting you to look inside, to never stop asking the questions and to be brave, to remain open, and to take a chance on yourself.